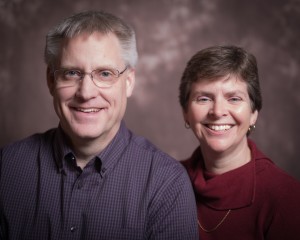 This may not be a traditional bio, but rather a bit of my own personal story.
I grew up in a Christian home attending a main line traditional church. It was the kind of church that just followed a set pattern of worship or liturgy. They didn't even seem to talk about Jesus much. Even as a kid I just knew there had to be more. Then I met my wife and attended the church she grew up in. Again, another mainline traditional church, I knew there still had to be more. For one thing it just felt like the scriptures should be explained more.
Shortly after my wife and I were married we were approached by a man who said he was going to plant a new church. We were intrigued by this because the town we were living in at the time only had a Catholic church and we weren't from a Catholic background. So we were interested in a different kind of church but the concept of church planting really struck me as odd. At that point in my life I had never heard of church planting, I thought churches always just existed. It never occurred to me that someone had to start new churches. So we joined this man on his journey to plant a new church in our town. This got us hooked on the idea of church planting.
This church too though was a main line traditional church, it still seemed to me as if something was missing. It was however, in this church plant that my wife and I experienced for the first time authentic relationships with people in church, these weren't superficial relationships. So going forwarded we knew we wanted to be a part of church planting and authentic relationships.
It was during our time at this church plant I felt the call of the Lord to go into ministry full time. That's too long of a story for here, but feel free to ask me about it when you visit. Up to this point I had been using my degree in horticulture to own and operate a landscape construction business. But in Dec 1999 I sold my business and in Jan 2000 I entered seminary at Trinity Evangelical Divinity School in Deerfield IL where I earned a Masters of Divinity (MDiv). Throughout my time in seminary I had the opportunity to visit many different churches, but they too seemed to be missing something.
Then one day I walked into a Vineyard church, and not just any Vineyard church but a Spanish speaking LaVina. I immediately heard the Lord say to me, "you're home." This is also a long story I would love to share with you later. But what we found in this church was what I had always felt was missing from others. Authentic passionate worship, the gifts of the Holy Spirit openly in operation in a healthy way, and cross cultural and cross racial relationships.
So it was through these experiences that we formed the vision for this church. Church planting to reach new people for Jesus. Authentic relationships where you can be yourself and grow in Jesus with other authentic believers. Passionate worship in a musical style I resonate with.Teaching the Bible in a way everyone can understand and find helpful. The gifts of the Holy Spirit openly in operation in a healthy and balanced way. Cross cultural relationships within the church, after all heaven will be every tribe and every tongue, so the church should look like that now.
Come join us as we do our best to walk out this vision.
Tim is also the author of the book,  Adventuring with God, Saying yes to Jesus and His Mission. The book is available at most major book sellers.
My wife Amy and I have now been married for over 30 years and more in love than ever. We have two amazing children, a son who is 24and a daughter 21. We love to spend time together hiking in the mountains of Tennessee or on the beaches in Florida. We also take frequent missions trips to Senegal and Mozambique Africa to support the work the Vineyard is doing there. Under the ministries tab click on "African Missions" to see more about that.
~Tim & Amy Mengler