We are part of the Vineyard USA movement. We are committed to worship, the study of God's word, discipleship, community, ministry through the power of the Holy Spirit and the demonstration of God's love to the world in practical ways. We are also a multi-cultural, multi-racial group of believers with at least six nations represented. Heaven will be every tribe, every tongue, and every nation so the church should look like that now. We also desire to be apart of racial reconciliation.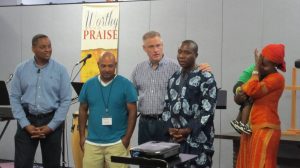 What to expect when you visit
Our services start at 10:30am
We are located at 7105 Virginia Rd # 18 We area across from the Walgreens and right behind the CVS, in fact we share an entrance with CVS off of Virginia Rd.
Our services are generally an hour and fifteen minutes long.
Dress is casual, jeans and a t-shirt are fine, but if you want to dress up that's fine too. If you are from another nation feel free to wear the cultural clothing of your nation.
There will be people from different races and cultures with several different languages spoken by members.
Visitors are never singled out, but you will be warmly welcomed.
We have children's ministry from toddlers all the way through high school. Children will be taught age appropriate Bible stories and fun games and crafts to help apply and remember the lesson.
We also have a changing room for those still in diapers.
We always have free coffee, tea, and other treats before and after the service.
We look forward to your visit!